Last week, I got a text from an old friend, saying she was in town with friends and would like to get together for dinner. I couldn't go anywhere because I was expecting a plumber to come fix my leaky sink (though in the end, he stood me up), but I did offer to make them dinner if they could come to me. And come they did.
I thought I'd give a recipe called Cream Cheese Chicken (
http://allrecipes.com/Recipe/Cream-Cheese-Chicken/Detail.aspx
) a try. It was hailed as being a good company dinner, and I had all the ingredients, so why not?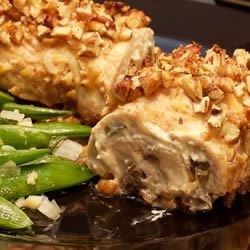 [Image courtesy of SBLAES on allrecipes.com]
First, I pounded out some chicken breasts. Unfortunately, my meat pounder had a hard winter (hubby used it to chop ice on the deck, I believe), so it's missing the regular pounding side. Instead, I sliced the chicken breasts in half to get them thin and tenderized (and partially pulverized).
Next, I sauteed up some mushrooms, chopped spinach, and garlic in a bit of butter, though the original recipe didn't call for the spinach or garlic.
When the veggies were tender, I added ~6 oz of cream cheese and pushed it around until it melted and was creamy. Reviewers had cautioned against trying to stuff the chicken with this mixture while it was still warm, saying that it got impossibly messy and gooey, so I scraped it into a bowl and chilled it in the fridge for a while. When it had cooled down, I spread it onto my pounded and tenderized chicken breasts.
Turns out the chilling strategy was a good one, as I didn't have too much trouble rolling up the breasts. I did stick some toothpicks in, though, just in case they decided to unroll. The puppy supervised.
The glaze was a bit odd - lots of brown sugar and lots of Dijon mustard.
Spoon that onto the chicken breasts, top with some chopped walnuts, and you're good to go!
I regret to inform you that this was the final picture that I took of the chicken. Somehow, when I'm not alone in the kitchen, I get amnesia and totally forget that I'm supposed to document every step for the blog. You will just have to take my word for the fact that the chicken, once cooked, resembled the picture at the top of this post. Honest.
Now, the sleeper hit of this meal was something that I didn't even bother to take pictures of, except for when I pulled it out of the oven. I found a recipe for roasted potatoes that involved olive oil, salt, and pepper, and with a generous addition of garlic powder and dried parsley, it came out like this:
Mmmm and they were good. Along with the chicken and potatoes, I served a salad with my homemade Greek dressing, and I'm proud to say that there weren't any leftovers.
Bon appetit.
Recipe to appear in TasteBook shortly.